The Seven Nights of Santa traveled to Lithuania for the first time this July, thanks to our friend Andrew Mastecas's excellent work in translating the book.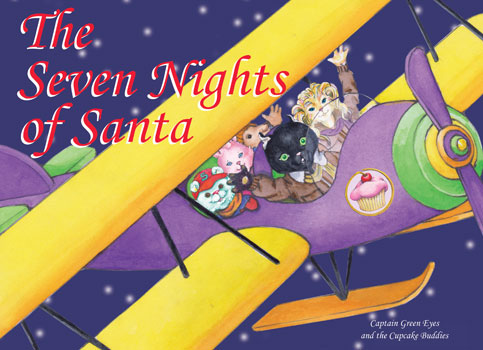 My husband Dwight Ensley and I first published The Seven Nights of Santa in 2013. In my work as a family law attorney, I see a lot of divorces involving children. Holidays such as Christmas are often difficult for such families – there are disagreements over how to celebrate or which house the kids open gifts in. Additionally, media images of "traditional" families don't represent the experiences of children of divorce. These experiences are what inspired The Seven Nights of Santa, which shows how Christmas can be magical for families of all shapes and sizes.
We give away copies of the book to clients going through a divorce, but their children aren't the only ones who need this message. That's why we teamed up with Andrew Mastecas, a 9th grader from New York City, who translated the book into Lithuanian and donated the copies to orphanages in the country.
Andrew has previous experience translating books – The Seven Nights of Santa is his second translation. He donated copies of his first translation to Lithuanian orphanages as well. Still, he faced new challenges with this translation, as some of the words in the book didn't translate properly into Lithuanian.
"I had to do a bunch of different edits to manipulate the words to make it more sensible and make the book flow properly," Andrew said.
For some of these words he reached out to his father, Darius Mastecas, for help.
"I was helping him with some of these words like 'hot dog.' Like Andrew mentioned that we don't have that exact [phrase] in Lithuanian," Darius recalled. "Some words we have to come up with, and together we made a pretty good selection, I think, of these words. I think the kids can understand much better."
Hot dog is a daschund, and one of the main characters in the book. The pair combined words to come up with a replacement phrase that would make sense to the children.

However, another word posed a bigger problem for bringing the Cupcake Buddies to Lithuania.
"Cupcake is, we don't have that exact same word. We call it slapukas, which means a little round cookie," Darius explained. The pair then had to make changes to some of the drawings to reflect the new translation, as the book features a cupcake store.
All in all, it took about four months of work for Andrew to finish the translation.
"It was a really fun process," he said.