What better way to beat the heat this July than with patriotic popsicles? If you want to really knock the socks off your neighbors though, you can't settle for store bought. But of course, that's why you're here.
Don't let the title mislead you – today I'm bringing you not one, but twelve popsicle recipes. Because today's blog isn't just about making a Fourth of July popsicle, it's about making the ultimate Fourth of July popsicle. I'm talking a popsicle that bleeds melts red, white, and blue.
Ready to pick some flavors? Let's start off with white.
White Popsicle Recipes
Coconut Popsicles – From The Coconut Mama herself! This recipe uses coconut milk, maple syrup, vanilla extract, and shredded coconut.
White Chocolate Popsicles – These dreamy, creamy popsicles use banana, almond milk, vanilla extract, and white chocolate shavings.
Coconut Vanilla Creamy Popsicles – These popsicles are an impressively solid white, and are made with coconut milk, coconut flakes, vanilla paste, and sugar.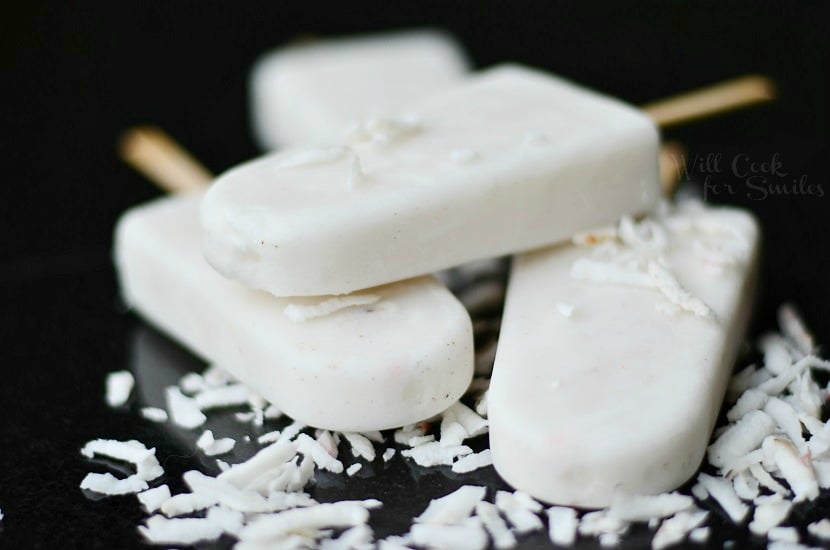 (from Will Cook for Smiles)
Creamy Vanilla Bean Popsicles – This recipe uses whole milk, heavy cream, and vanilla beans to get you that ultra-creamy vanilla goodness.
Pineapple Cream Popsicles – Coconut milk and pineapple come together to make these creamy pops.
Adding Color
Once you've picked a white popsicle flavor, it's time for us to add color. You have three options for this.
Option 1: Use food coloring to make red and blue popsicle mixtures from the white. If you choose this option, simply separate your popsicle mixture into thirds and add color. Make sure to freeze the layers one at a time.
Option 2: Add fruit for pops of red and blue throughout the popsicle. To do this, simply add a few pieces of fruit to the bottom of the mold, pour until ½ full, add a few more pieces of fruit, then cover with popsicle mixture and freeze.
Option 3: Choose another 2 flavors for your red and blue layers.
Make your choice, and let's move on to the red and blue!
Red Popsicle Recipes
Fresh Raspberry Popsicles – Made with just raspberries, sugar, and water, these popsicles are as simple as they are delicious.
Easy Watermelon Popsicles – Have a watermelon? That's all you need for these.
(from One Lovely Life)
Strawberry Watermelon Popsicles – Fruit is the only ingredient in these ultra-healthy popsicles.
White Chocolate Raspberry Pops – These creamy tart pops are mostly white, with fresh raspberries adding pops of red throughout.
Blue Popsicle Recipes
Blue Lagoon Cocktail Popsicles – Blue Curacao, vodka, and lemonade form the base for these adult popsicles. Don't worry though – there's a mocktail version too.
Coconut Blueberry Basil Pops – Frozen blueberries give these coconut-based popsicles a nice bluish tint. The recipe is dairy free and makes about 8 popsicles.
Cotton Candy Popsicles – These Frozen-inspired popsicles use milk, cream, vanilla pudding, and blue cotton candy or sugar.
(from Glitter 'N Spice)
Making Your Popsicles
Once you've figured out your flavors, it's time to make the popsicle.
The easiest approach will be to layer your colors – freeze each layer before adding the next and remember to leave some room at the top, as the popsicle will expand as it freezes. Add your popsicle sticks when the mixture is partially frozen so that they stay in place. For a smoother texture, put your popsicles in the coldest part of the freezer (near the back). The faster the popsicles freeze, the smaller the ice crystals will be, and the smoother the texture.
Fruit can be added to create splashes of color throughout the popsicle. Larger fruits can be cut into star shapes for an extra bit of pizazz. You can even use smaller molds to make colorful star-shaped bits from extra popsicle mix.
Whatever flavors you choose, make sure to share your popsicles with somebody special while you watch the fireworks this week.