I made these crispy slow cooker carnitas recently, and they are incredible! Carnitas weren't something I've made before, but I'm proud of how they turned out!
The biggest challenge of the carnitas was maneuvering the hefty pork shoulder. I trimmed quite a lot of fat off of it, which I saved to render later. After trimming, I rubbed the pork with a Mexican-inspired spice blend that included cayenne, cumin, oregano, and chili powder. With my trusty cast-iron pan over high heat, I seared the pork in bacon grease to lock in the flavor. This was an interesting thing to watch – the shoulder was far too big for tongs, so I had to keep turning it by hand in the pan.
I loved how simple it was to slow-cook the pork. Some onion, green chiles, bay leaves, and garlic joined the pork in the pot. After pouring chicken broth and a bit of lime juice over the mix, I set the slow cooker for 10 hours and went to work on other things.
The carnitas were fantastic straight out of the slow cooker, but it was nothing compared to the finished product. After stealing several bites (it was so tender you could just pull pieces away!), I took the shoulder out of the slow cooker and shredded it. With how large the shoulder was, it took a little bit. After the pork was shredded, I took what was left in the slow cooker and strained the juices into a bowl.
I broiled my pork in two batches, as I only had my smaller baking sheet available, and wanted the pieces spread thinly enough for all of them to get crisped up. Originally I broiled it for five minutes but found that it wasn't very crispy yet, so I put it in for another three. Once the top was crispy, it got doused in a third cup of the juices, tossed, and put back in. After the second five-minute broil, I tossed it in another third cup of juices.
The finished carnitas went into small flour tortillas. I was out of avocado, so I topped it with onions, cilantro, and a sour cream/hot salsa sauce mix. Our only salsa was a ghost pepper variety that we'd severely underestimated, so I hoped the sour cream would help mitigate some of the heat (it wasn't enough).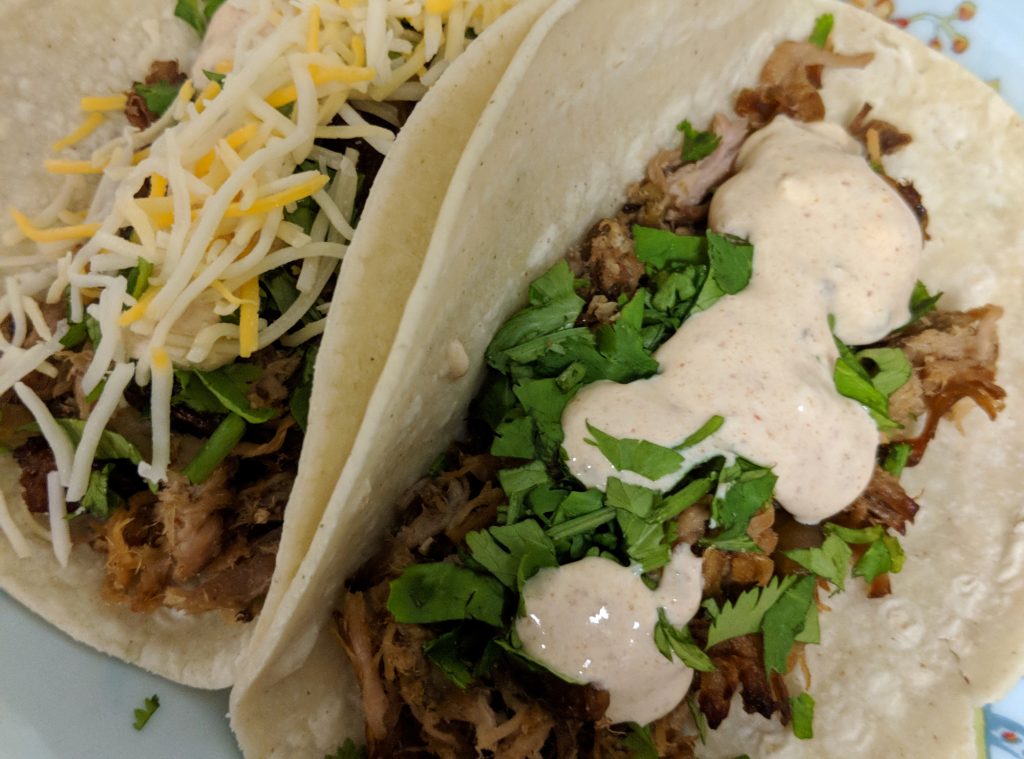 Looking back, I think I'll serve them differently next time. I would use a crunchy tostada instead of the flour tortillas, as that texture would work better with the meat. As for toppings, I think a creamy guacamole, cilantro, diced onions, fresh tomato, and sour cream would be the way to go.

Slow Cooker Carnitas Recipe
1 tbsp bacon grease
1 (4lb) pork shoulder/pork butt, trimmed
1 lime
4 cloves garlic
1 onion, diced
1 can diced green chiles
1 cup chicken broth
3 bay leaves
1 tbsp red chili powder
2 tsp cayenne
3 tsp cumin
2 tsp oregano
salt and pepper to taste
1. Mix chili powder, cayenne, cumin, oregano, salt, and pepper. After trimming the fat off, rub the pork shoulder with the spices.
2. Heat bacon grease in a large pan. Over high heat, sear the shoulder on all sides until browned.
3. Add pork and remaining ingredients to slow cooker. Cook for 10 hours on low or 6 hours on high.
4. Remove pork from slow cooker, let excess fluids drip off. Strain the leftover juices into a bowl and set aside.
5. Shred the meat and spread the pieces evenly on a large baking sheet. Broil for 8 minutes. Remove the pork, pour 1/3 cup of the reserved juices over it, and toss. Broil for an additional 5 minutes. Pour another 1/3 cup of juices over the meat, toss again, and serve immediately. If extra crispiness is desired, broil for another 5 minutes.
You can eat the carnitas by themselves, like pork BBQ, or you can serve them on tostadas with guacamole, sour cream, onion, and fresh tomato. Either way, you'll likely want some cerveza to go with them!
---
by Venn Crawford