Snow is everywhere in Greensboro right now! What better way to enjoy the cold than with some warm apple brie crepes? These crepes feature tender apple slices caramelized in butter and topped with melted brie.
Making apple brie crepes starts with the prep. First, I make my batter. Then I get the apples ready, as they need to cook the longest. I recommend cutting the apples in half, peeling them, and then slicing them.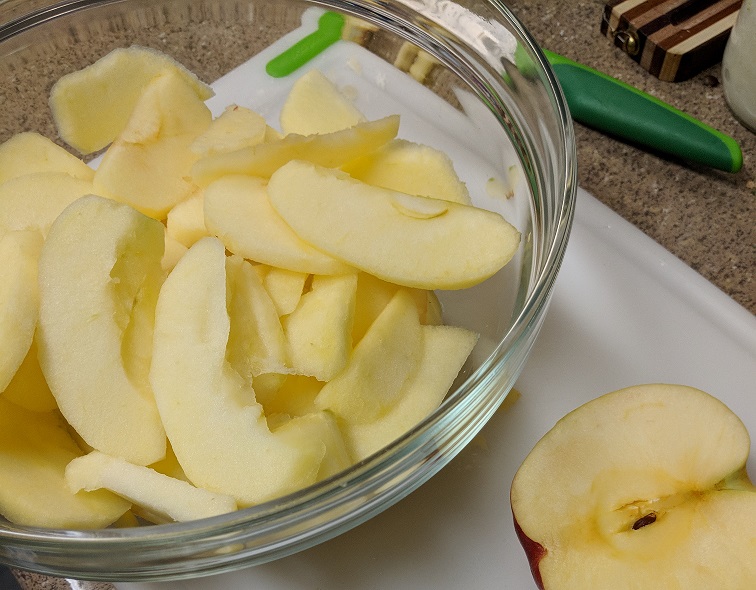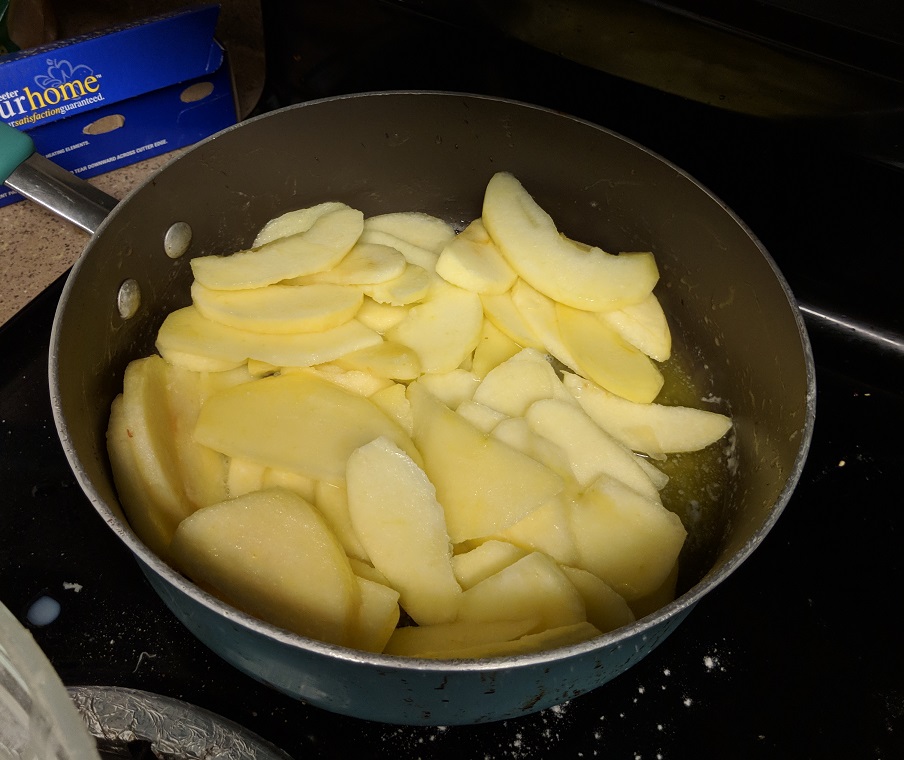 After the apples are sliced, melt the butter in your pan and start softening them. They cook faster when covered, but you need to keep an eye on them and stir them often. While cooking the apples, I usually start making the crepes.
You want to use about ½ cup of batter in a small pan. Once poured, tilt the pan around until the batter has spread to fill the bottom.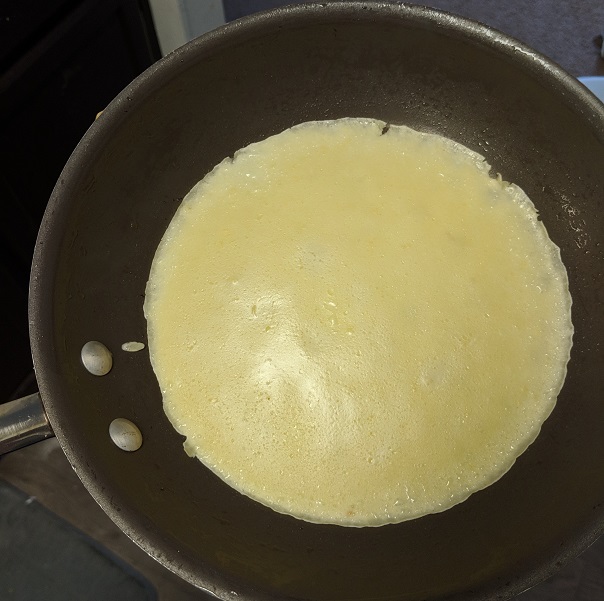 The first crepe will be ugly every time you make them. This is because there's usually too much butter at first so the crepe fries. I usually throw the first crepe out once it's cooked. Once you're onto the second crepe, you want to cook its first side until it gets a nice lace-like pattern on it.
Then, flip it and cook the other side. When the crepe is done, lay it on a paper-towel-lined plate. Add a fresh layer of paper towels between each crepe to soak up the oils from the butter.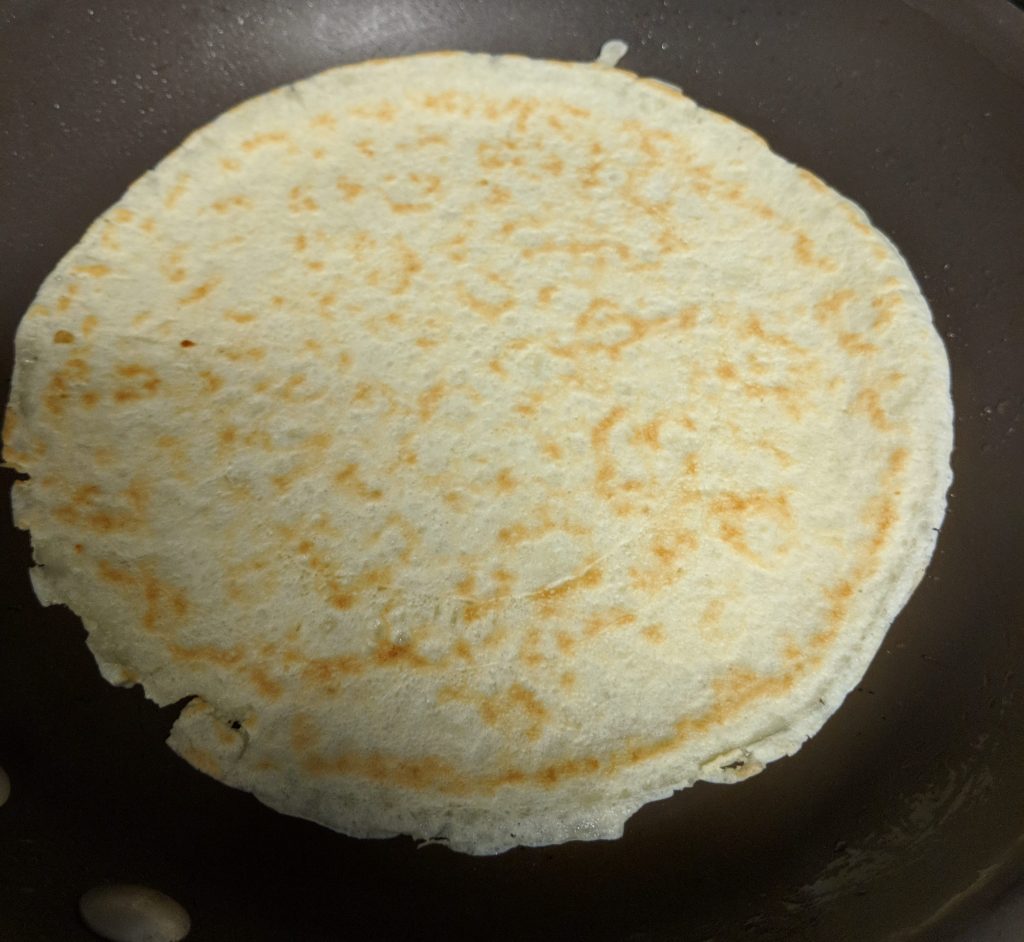 Once the apples begin to soften, we add the sugar, tossing the apples in it until they're each coated. Then we turn the heat up and start to caramelize them.
While your apples cook, go ahead and cut the rind off your brie – it won't melt with the rest of it. Once all the filling is done, lay your crepes out on a pan lined with parchment paper or tinfoil. Layer apples and brie on half of the crepe, then fold closed.
Put crepes in the oven until the brie melts, then plate and enjoy! Try experimenting with this recipe some – my favorite thing to do is add two fried quail eggs to each crepe for a bit of a savory flavor.
Crepe Ingredients
1 cup flour
2 eggs
½ cup water
½ cup milk
¼ tsp salt
2 tbsp butter, melted
Whisk flour into eggs. Gradually stir in the milk and water. Add salt and butter and mix until smooth.
Heat a pan to over the stove over medium-high heat. Melt about ½ tbsp of butter in the pan.
Pour ½ cup of batter into the pan, tilting the pan until the batter spreads into an even circle.
Cook the crepe until the bottom is pale or golden with a lace-like pattern, then flip. Cook this side for 2 – 3 minutes or until
Repeat steps 3 & 4 until no batter remains. Add more butter to the pan every 4 – 5 crepes, or when needed.
Filling Ingredients
2 large apples, peeled and sliced
Brie, sliced into strips (rind removed)
¼ cup sugar
4 tablespoons butter
Preheat oven to 350° Slice and peel apples.
Melt butter in a pan over medium heat. Add sliced apples and toss in butter. Cook covered until softened, occasionally stirring (about 10 minutes).
Once softened, add sugar to apples and toss to coat. Turn heat to medium-high and cook until apples are browned, stirring frequently.
Place crepes on a nonstick pan, unfolded. Arrange apple slices in one layer on ½ of each crepe. Cover with strips of brie and fold crepe.
Cook crepes in oven for 10 minutes or until brie is melted.
If you make my apple brie crepes, tweet me a picture @Ask_Carolyn!
---
by Venn Crawford, Marketing Assistant